Reading in Translation, an online journal promoting the translation of books into English
27/08/2020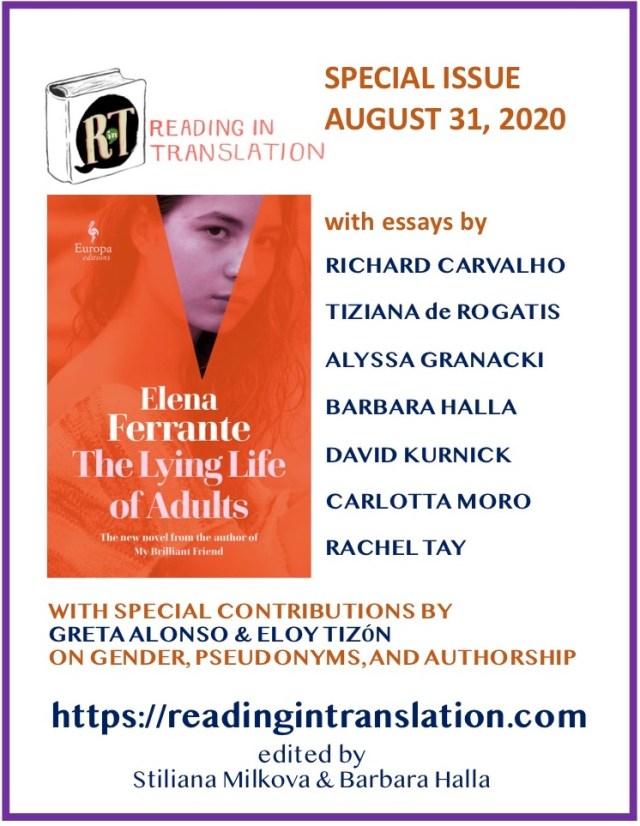 Reading in Translation is an online journal that publishes quality reviews of translated literature, interviews with translators and publishers of translated literature, and essays on books that should be translated in English. Working in an Anglophone culture that generally neglects literature in translation, the journal aspires to make literary translation more visible and to acknowledge the translator's significant intellectual and creative labor. It models how translations can be discussed in a meaningful and accessible way without ignoring the translator's unique voice. To that end, its contributors are translators themselves and they bring their own profound understanding of translation as a creative art.
The journal has a sustained interest in Italian literature, whether in English translation or not yet translated. It has published numerous reviews of Italian prose and poetry in translation, including works by Elena Ferrante, Nadia Terranova, Laura Imai Messina, Giovanni Pascoli, Pierluigi Cappello, Giacomo Sartori, Edoardo Sanguineti, Donatella di Pietrantonio, Elsa Morante, Franca Mancinelli, Rossella Postorino, Antonio Moresco, and others. Many reviews of Italian books in translation are forthcoming––including works by Natalia Ginzburg, Claudia Durastanti, Antonio Tabucchi, Andrea Bajani, Guido Morselli, and Iginio Ugo Tarchetti. A special issue is dedicated to Elena Ferrante's new novel The Lying Life of Adults (La vita bugiarda degli adulti), translated in English by Ann Goldstein.
The column "Translators on Books that Should Be Translated" features several Italian authors that should be made available to an Anglophone public—Silvio Perrella, Roberto Carretta, and Simona Baldelli. The journal plans to continue to publish essays on Italian books that should be translated in English.
The journal pays close attention to international literary translation events as well. In June 2020 it published a special report on literary translation events at the 2020 Salone del Libro di Torino. And it aims to keep up its dispatches from the Italian literary translation community.
Reading in Translation is an online venue where Italian literature in translation can be reviewed and where translators can propose Italian books for translation by writing compelling essays about why these books should be translated in English. The editor, Professor Stiliana Milkova, welcomes queries and pitches for reviews and essays. You can contact her at smilkova@oberlin.edu.
https://readingintranslation.com
https://twitter.com/ReadinginTrans